In August, 1999, a great era was brought to a close. Having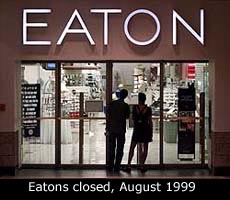 encountered stiff competition from new retailers such as Wal-Mart, and battling insurmountable debts, Eatons, a fixture of downtown Montreal for many years, and a part of our Canadian landscape and heritage for well over a century, liquidated its assets and closed its doors forever.
In its wake was left a large and empty building. One that we're sure many Montreal explorers had a severe hankering to explore since Eatons vacated it.
Unfortunately,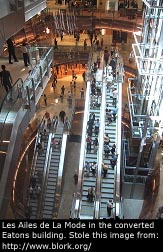 security was tight. All entrances were barricaded, and the building stood empty even of urban explorers until a new shopping centre, Les Ailes de la Mode, bought up the building and filled it with shopping goodness.
Being an enterprising bunch (and having read in the newpaper that there was an abandonned restaurant on the 9th floor) UEM decided to go see what delights awaited us in this historic building.
What struck us first was that, behind the shiny new facade, this building retains much of its original shape and character.
Our many visits to the building involved climbing numerous sets of stairs, obviously left over from the Eatons days. Additionally, on the abandonned 9th floor (currently undergoing renovations), much remains of the now nearly forgotten Eatons legacy. Elevator doors are trimmed with intricate wood carvings. Door handles are brass. The walls are art-deco pastel shades.
While the 9th floor is beautiful in and of itself, the real gem, the pearl, the holy grail is the abandonned restaurant. Massive, with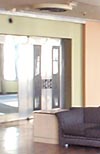 much of its original furniture and decoration, the restaurant was what we were aiming for every time we visited this building. It's also the first time that UEM has been really stopped, even though we tried just about everything to get in (including trying a bunch of keys we found on the doors!) Unfortunately, the restaurant has stubbornly deterred us at the big double doors every time.
Though we weren't able to get in, we're confident that we'll be able to eventually. Why? Because to the best of our knowledge, the reason the ninth floor hasn't already been trendified like the rest of the building is a certain something Eatons stipulated as a condition for the sale of the building. The restaurant cannot be touched. The renovations in progress will hopefully not ultimately affect the beauty of the place. We can dream. In the meantime, we will probably make careful forays back to the place to see if anything has changed. We reccommend you do too, before it's too late.