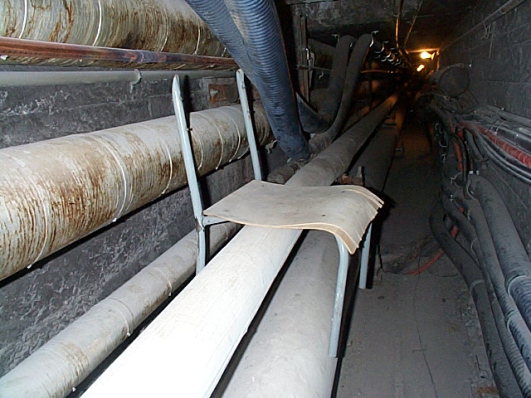 "Road to Hell", McGill University steam tunnels (gallery) (refresh)


from the taxpayer-money-pit dept.
Posted by Tux on January 16, 2009 at 6:33 pm
Hey, it's one of our semi-yearly updates! Check out our short trip to the now mostly retired Stade Olympique!
from the construction-site dept.
Posted by Tux on March 16, 2008 at 11:37 am
Hey, we're updating! Over the next year we'll be restoring some of the lost galleries (in this update it's Benny Farm) and also posting some new stuff that we never published. We've got tons of material in our archives of stuff we explored but never published so keep watching. For this update, the new content is actually from 2003, but it's cool nonetheless. Check out the Concordia Engineering, Computer Science and Visual Arts Complex construction site.
Comment on this Update [] Read Comments
from the photos-we-never-posted dept.
Posted by Tux on January 18, 2006 at 10:12 pm
Hey people. Seems like I'm in a site updatin' mood, 'cause that's two in one day!

Here's a short drain expo we did awhile back, which we never put on the web. :)
Comment on this Update [] Read Comments
ETS Pedestrian Tunnel
Posted by Tux on January 18, 2006 at 1:40 pm
I'm not sure if this ever actually made it onto the site, or if it was orphaned after the website got deleted and subsequently repaired, but this fun little expedition was sitting on our webserver unlinked and unappreciated!

Here's the ETS pedestrian tunnel!
Comment on this Update [] Read Comments
CN Viaduct and Sandwich UE
Posted by Tux on October 29, 2005 at 7:45 pm
We're back! Took us long enough didn't it? We're conducting some minor page repairs, and we also have not one, but two new sections for you!

Some semi-abandoned goodness at the CN Viaduct and some construction site UE/lunch with sandwich ue! Hope you enjoy!
Comment on this Update [] Read Comments